Aarambhh Digital - Performance Marketing
The internet has brought a drastic change in the way customers used to search products and buy them. Also, the way of advertising and selling the products by companies has also changed. In the current scenario, marketers are capable enough to congregate campaign data and compare the results there and then. However, in earlier times such imputation was not possible. Transparency of data enables marketers to optimize their campaigns for an optimum performance, which is also known as 'Performance Marketing'.
What do you mean by Performance Marketing?
Performance marketing is basically a term dedicated to the online marketing campaigns where marketing companies are paid by advertisers for the results that they have achieved in terms of clicks or conversions. Performance marketing is one of the popular digital marketing services that helps in driving actions, further tracking and measuring them while attributing the ROI of all the assets, campaigns or activities.
Performance marketing is a powerful tool of an advertiser that helps in getting desired results, which are sales, lead, or click. In addition to this, performance marketing services only charge for the successful transactions. While in other methods of advertising, the advertiser has to make a fee payment for an ad space independent of performance, and that too without even seeing a conversion.
The Right Marketing Solutions to Solve your Problems
How is Performance Marketing different from other services?
Performance marketing is one of the most effective market services that helps in achieving great results with less money spent. Below are a few comparisons that would give you a better understanding.
Performance Marketing vs Brand Marketing
In today's time, the market is brand saturated and customers also focus on the same. Hence, becoming the centre of attraction is just not easy. Therefore, brand awareness is of utmost importance. You can choose a lot of methods for increasing brand awareness like native advertising, content marketing, social media campaigns, and more. And, some of them are a part of performance marketing as these can be measured and advertisers only pay for specific actions.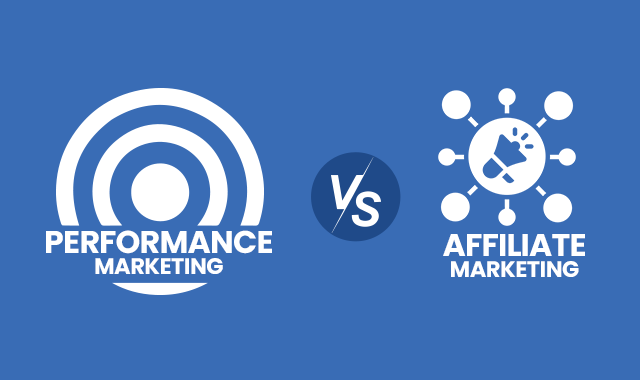 Performance Marketing vs Affiliate Marketing
Affiliate marketing, a definite subdivision of performance marketing, is completely metrics and goals driven. In affiliate marketing, commission is earned for the online promotion of a product or a service. In affiliate marketing, promotion is done on the behalf of the merchant for achieving traffic, clicks and sales to the client's website. Payments are only received for the actions taken like clicks, leads and conversions.
Performance Marketing vs Programmatic Marketing
An automated method of purchasing an ad space by targeting the most relevant audience at nominal rates is programmatic marketing. It is an important part of performance marketing as it lets the advertisers buy suitable placements and increase their ROI.
What are the different ways of measuring Performance Marketing?
Return on Investment (ROI) is a defining element of performance marketing in which all the actions and activities are measured, reported and analyzed with the pre-defined KPIs. Hence, you can easily understand the performance of an on-going campaign and further optimize it for an improved performance.
Following are the key metrics for measuring performance marketing:
What are different types of Performance Marketing?
Performance marketing has made its name in the digital world owing to the new technology and change in consumer behavior. In the current scenario, digital marketing mainly focuses on 'targeting the right people on the right device at the right time'. With the help of advanced tools and technology, performance marketers can create high-performing campaigns for different types of audiences who have different goals.
SEM, also known as search engine marketing, is one of the important parts of performance marketing. It is the placement of paid ads on search engine results pages (SERPs). Search engine marketing is highly effective as it lets the users see highly targeted ads that are related to their products or services.
Native advertising is another important performance marketing tactic that has gained a lot of popularity. These advertisements are more effective in comparison to display ads as these do not hamper the user's browsing experience. Moreover, these ads fit perfectly on the web page.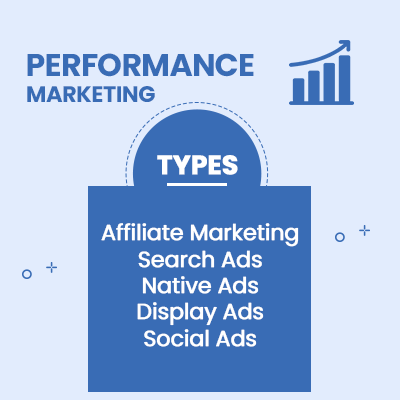 What is the process to build a performance marketing strategy?
You can explore a broad gamut of performance marketing channels and campaigns that help you build an effective performance marketing strategy for the target audience.
Listed below are the steps that you can follow:
What are the benefits of Performance Marketing?

One of the best examples of performance marketing is native advertising in which advertisers develop ad campaigns for a specific conversion goal, and pay for clicks. Benefits of performance marketing are as follows:
Performance Marketing FAQs
Digital marketing comprises several aspects and activities of marketing across digital channels on the internet. Digital marketing services include SEO, email marketing communications, website design and more.
A digital marketing specialist is someone who understands how to develop and utilize various marketing strategies online and further get the results accordingly.
Through performance marketing services you will gain a lot of customers on websites and help in building a lot of revenue.
Aarambhh Digital - Performance Marketing